30.01.2014.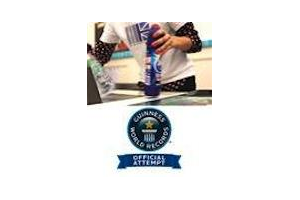 GS1 UK, supported by Wincor Nixdorf, has set a new GUINNESS WORLD RECORDS™ title, outlining the efficiency benefits the barcode has been delivering since it was introduced 40 years ago.
The GUINNESS WORLD RECORDS title achieved was for the fastest time to scan 50 items, which was completed in just one minute and 15 seconds by Ben Clarke and Samantha Wroe from GS1 UK. To provide a comparison of how technology has moved on, the fastest time achieved to ring 50 items through a 40 year-old till was two minutes and 22 seconds.
"As one of our major activities for the 40th Anniversary campaign, our world record success will help get a strong message to a wide audience about how GS1 standards are driving efficiency," commented Holly Porter, CMO of GS1 UK.